New track from A.G.E. - 5 Chord (thats the working title)
Alright guys, it's been nearly a year and a half since I posted a track here. We have written some new songs and moved to tracking live, rather than overdubbing (it works better for us). With that said, the space we have to track in is so cramped that you can hear the guitar and drums through the bass DI! So be forewarned, there is a lot of crosstalk to deal with.
This tracked was recorded on 7/25/12 in a small garage. There are 11 channels.
Alright, here is the recording setup to give you an idea of the layout and how tight the space is.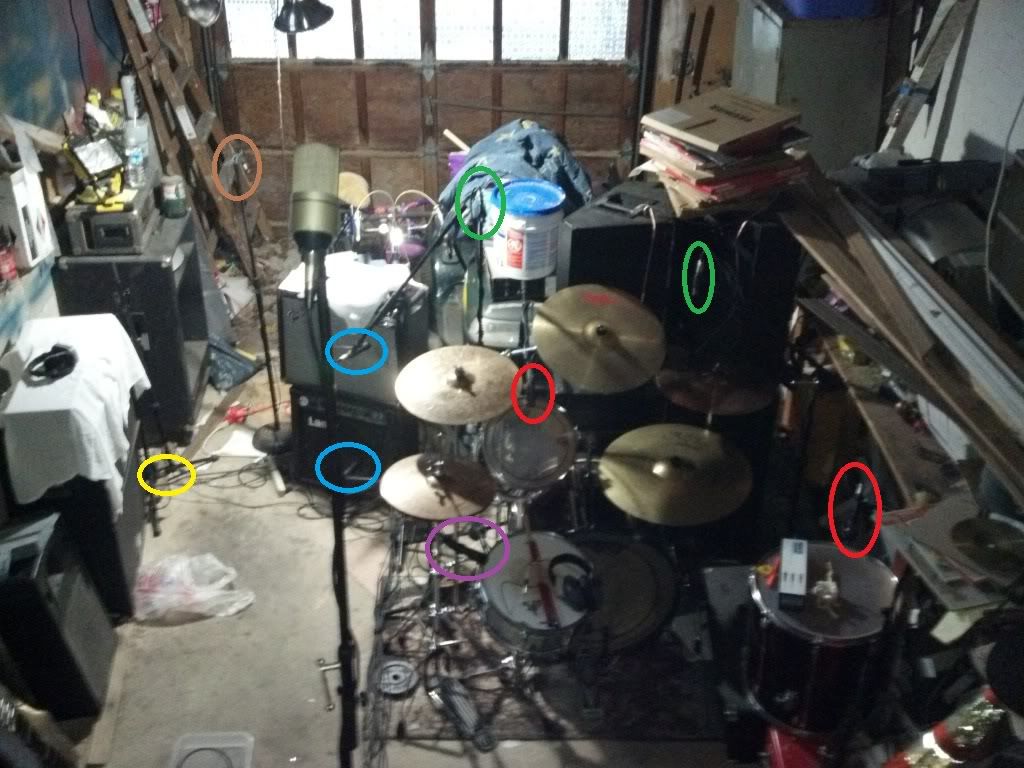 The mic in the foreground is the room mic, an MXL 990, the green ones are CAD CM217's on the drum overheads. I have them as close as I feasibly can to help keep them focused on the drums, but there is still a ton of guitar and bass in them. Also, with them so close, the left crash phases, I have tried everything I can to fix that, but short of moving them further away, this was the best solution.
The tom mics are a radio-shack instrument dynamic on the high tom (forget what model exactly) and a Gemini vocal mic on the low tom. Yes, I am aware the toms are out of tune, it was about 95f in the room that day and I just could not get them to tune in a reasonable amount of time. Snare mic is a GLS ES57 (sort of a knock off SM57, I like the sound, since it is a bit brighter with less mud on the low end). Kick mic is a Shure PG52. Again, due to the tight space, placement kind of sucks. I am considering moving it to the batter side.
In this recording, only the top guitar amp was used, recorded with an SM57. The bass is direct (gave up on the bass mic, just too much crosstalk from the guitar).
The vocal track is really a scratch track, though it turned out well enough to use for now. Once my new mic (a Blue Spark) comes in I will have the vocalist over to lay down some new tracks. The scratch vocals are the old standby, and SM58.
Ok, that's all the tracks. Here is a quick mix I did in an hour and a half or so (most of that spent setting up the track order and such).
http://musichack.org/x25/tracksformixing/5-chord-quickmix2.mp3
(sorry, the link was broken for a bit, fixed now)
And here are the tracks.
musichack.org/x25/tracksformixing/5-chord-tracks.zip
Have fun with it!